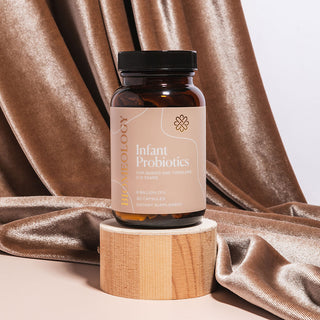 High-Quality Infant and Toddler Probiotics
12 strains of beneficial bacteria, including Bifidobacterium infantis - clinically shown to help digestion of breast milk – andLactobacillus reuteri.
Pre-measured inindividual capsules to maintain freshness and efficacy.
Serving size:1 capsule. 30 capsules per container.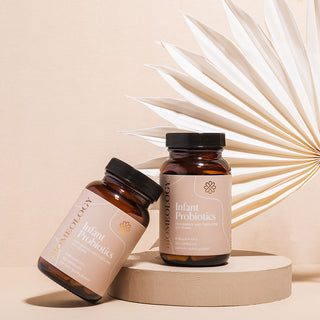 Easy to Dose and Administer to Little Ones
Infant probiotic powder formula mixes easily in your baby's bottle, food, or drink. 
Breastfeeding-friendly: add a little to the breast before nursing or place some on your finger or a baby spoon and serve it directly to your baby.
Odorless and flavorless, it offers a simple means for ensuring that your child grows up as healthy and happy as possible.
Total 5 star reviews: 8
Total 4 star reviews: 3
Total 3 star reviews: 1
Total 2 star reviews: 0
Total 1 star reviews: 0
92%
would recommend this product
AR

Yogurt poo

Made my baby's poo smell like yogurt after only a few small doses. I do not give it to my baby daily, as it caused gas and seems it has done the trick and colonized her gut since the smell has persisted. I may give it more regularly once they are older.

Great

Helped ease my daughters reflux, gas, and abdominal discomfort which helped he be more happy during the day as well as sleep better.

Just okay

I got this probiotic for two main reasons, to clear up my son's constipation and his mild eczema. I have given him this probiotic for about 20 days now. We have the majority of eczema flare ups controlled with diet. There was a mild improvement in eczema, but unfortunately no change with bowel movements. He is 10 months old and still just eating the most basic of foods, we don't even do combination foods very often. He eats a serving of pear or prune every day. So I really hoped this would help, but no :(

I think it's good

I think i like this product, but when it came to me it was scorching hot (i'm in florida) - i'm worried that the heat killed half the probiotics in it and really would have felt more comfortable had it been customary to ship this with an ice pack for safety. i'm also not a fan of it being in capsules. it feels wasteful, and if you wanted to gradually work you child up to taking the full dose it'd be much more difficult to do so with having to either save the remainder of the tablet or tossing it. i'm basically not a fan of the packaging in general (though i do love a glass bottle).
Reviews Loaded
Reviews Added