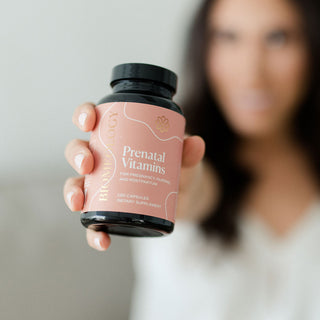 A Prenatal with Optimal Forms of Vital Nutrients
Choline - Most prenatal vitamins contain little or no choline, a vital nutrient that helps your baby's brain and spinal cord development.
Methylfolate - Our prenatal multivitamin is formulated with L-5-methyltetrahydrofolate, so mamas can better absorb this essential nutrient.
Iron - Unlike prenatals that don't contain iron, Biomeology's optimal formulation helps your body maintain the iron stores it needs.
Plus these 26 other nourishing nutrients and micronutrients including zinc, biotin, niacin, iodine, copper, selenium, thiamine, riboflavin, magnesium, manganese, pantothenic acid, and vitamins A, B6, B12, C, D3, E, and K2.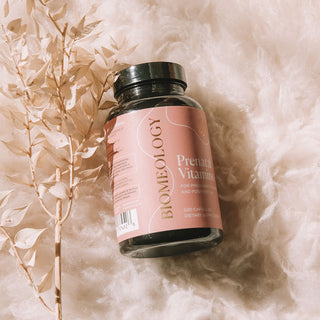 A Prenatal for Your Pregnancy Nutrition Needs
Formulated with optimal forms of essential nutrients
Lab tested by the batch in an independent facility
Made with only the highest quality ingredients and free from unnecessary additives and fillers
Formulated for optimal absorption and utilization by the body
Easy-to-swallow capsules that are gentle on the stomach
Suitable for vegetarians
Made in a GMP certified facility for added quality assurance
Total 5 star reviews: 5
Total 4 star reviews: 1
Total 3 star reviews: 0
Total 2 star reviews: 0
Total 1 star reviews: 0
100%
would recommend this product
Kristina G.

Verified Buyer

So far, so good!

I've been taking 2 in the AM and 2 at night, which is easier on me regarding the gag reflex. The smell is what's hard to stomach but I don't taste it unless it sits on my tongue too long. I haven't noticed any differences yet but I'm not very far through my first bottle. No negative side effects, either!

Prenatal Vitamins

I like these in that take 2 two times a day and they don't cause stomach upset like other prenatal have tried, take with food and water. They have good amounts of iron and everything else whereas Gummy prenatal meds did not have enough iron.

The best methylated prenatal vitamins I have tried

In my search for a methylated prenatal vitamin, I have tried all of the popular ones. None have worked as well as Biomeology's Prenatal Vitamins and I notice a difference when I don't take them. I have looked far and wide for a good prenatal vitamin for MTHFR and this is the one I'll stick with. It does have a mild smell but I just take it with breakfast and/or lunch and I don't have any issues. In fact it's worth it for me since it has so many minearals and vitamins other prenatals don't. Also the price is amazing and I love that it's only 4 capsules. Just the perfct prenatal vitamin.

HIghly recommend

I did countless hours of research and much trial and error before settling on Biomeology prenatal vitamins. Here is my honest review so you don't have to go through all of that as well. I have felt great while taking these during my pregnancy, after during postpartum while nursing as well as now that I am trying to conceive again. And I feel especially great about knowing there isn't a cleaner, more high-quality prenatal out there, or a more transparent company that genuinely cares about the health and wellbeing of women and babies.

Great prenatal vitamins

Had no problems taking these. Smell funny yes but other then that awesome.
Reviews Loaded
Reviews Added